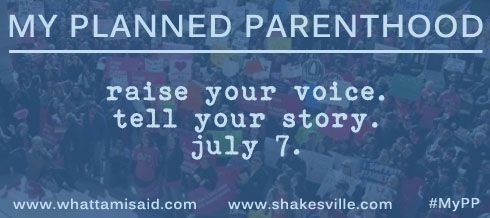 As many of you know, I got married when I was 20 years old. What most of you may not know is the health insurance battle we went through during our first year of our marriage. We were a few months away from our college graduations, and every single private health insurance company had rejected our applications. Too many pre-existing conditions. Well, one company accepted us, they wanted to charge us an arm and a leg for partial coverage. We were unemployed, uninsured, and uncertain.
A few months into our marriage, my prescription for birth control (the one I had when I was unmarried and insured under my parents,) expired. I couldn't afford birth control without insurance, let alone an annual exam. I made an appointment at Planned Parenthood, covering my unease with jokes about driving to the "ghetto" Planned Parenthood in downtown SLC. My unease was rooted in the fear-filled rumors I'd heard growing up in a very conservative environment. Planned Parenthood was dirty, disease-ridden, and determined to force an abortion on every unsuspecting young woman in the valley. I wanted to get in, get my birth control, and get out.
But I was wrong. The people at Planned Parenthood treated me with respect and kindness, more so than many of the doctors who treated me previously, who often lectured me on getting married young, and insulted me for not being "smart enough" to be insured. In contrast, Planned Parenthood walked me through all my birth-control options, and helped me stay healthy, both emotionally and physically, when no one else would.
When the health-care system rejected me, Planned Parenthood kept me informed, and helped me understand my own body. They helped my husband and I make the best choices for our situation: (young, unemployed, uninsured students.) They got to know me as an individual when insurance companies saw me only as a liability. They didn't care about my pre-existing conditions, they cared about me.
I believe in Planned Parenthood. I believe in men and women making informed, smart decisions about their bodies and overall reproductive health. I respect any organization with the following mission statement:
Planned Parenthood believes in the fundamental right of each individual, throughout the world, to manage his or her fertility, regardless of the individual's income, marital status, race, ethnicity, sexual orientation, age, national origin, or residence. We believe that respect and value for diversity in all aspects of our organization are essential to our well-being. We believe that reproductive self-determination must be voluntary and preserve the individual's right to privacy. We further believe that such self-determination will contribute to an enhancement of the quality of life and strong family relationships.
I will be forever thankful to the organization that helped a naive Mormon Child Bride grow into an informed woman who knows how to care for her body. To show my thanks, I will advocate for, vote, and support any person or organization that maintains that right for men and women everywhere. Planned Parenthood For The Win.
This is a post for the "What Tami Said" Blog Carnival in support of Planned Parenthood. Click
HERE

to read more stories from people who are proud to support Planned Parenthood.